Viscose & Other Silk-Like Fibers in Your Rugs – What You Need to Know
By Lynn Tall. Rug Advocate®
Real silk (spun from silk worms) is a very expensive fiber. That's why you can find so many types of less expensive imitation silk fibers in modern rug manufacturing. These various silk-like yarns are called many things: art-silk, bamboo silk, banana silk, coconut silk, viscose, tencel, mercerized cotton, and faux soie. None of these wear or respond to cleaning like real silk does.
Like wool, real silk is a protein-based fiber. It's fine and soft, but it's hearty and can take some wear. Unlike real silk, imitation silk fibers are all plant-based, lower-performing fibers. They are also fine and soft, but are more susceptible to premature UV/sunlight fading, texture change with light to moderate use, and discoloration with exposure to moisture.
It's ok if you have purchased or are about to purchase a rug with faux silk fibers!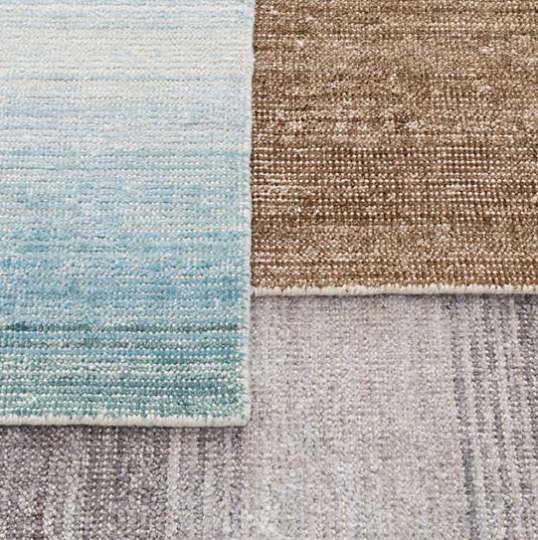 Faux silk fibers are an affordable substitute for real silk, and can be quite luxurious and beautiful if maintained properly.
Simply follow the guidelines below and enjoy your rug for a very long time!
If your rug is new, have a professional apply an appropriate fiber protector before you put it on the floor. In doing this, you will help future stains from setting, and will aid in the release of damaging soils when vacuuming.
If your rug has been in use already, have it professionally cleaned sooner rather than later, and then have an appropriate fiber protector applied. Cleaning it now will help keep any gray traffic paths to a minimum.
Avoid over-the-counter spotters, and do not blot spills with water. If something spills, simply blot with dry paper towels, and then call for professional cleaning. Any at-home attempts at cleaning or spot cleaning will certainly result in serious discoloration of the affected fibers, and will also likely cause a permanent texture change of the fibers.
If premature UV fading becomes noticeable, and you'd like to restore the original color of the dyes, we are happy to have our color restoration team take a look. Just give us a call and schedule a pick-up for inspection.
Yes, faux silk fibers require more up-keep, but they are here to stay. They are an affordable substitute for real silk, and can be quite luxurious and beautiful if maintained properly.
Please call us if we can answer any additional questions you may have about your silk or faux silk rugs!
Visit Us
Omaha's Rug Cleaning & Restoration
10345 Chandler Cir
LaVista, NE 68128-3256
Hours
Mon - Fri 8:30 am - 5 pm
Closed Saturday and Sunday