Custom Fit Rug Pads in Omaha, Nebraska.
Stop by our shop and pick up your custom cut pad today or ask how we can deliver and install your new pad in your home as part of our Pick-up and Delivery Service (Free with qualified purchase in our delivery area – some restrictions apply).
10345 Chandler Cir, La Vista, NE 68128
(402) 212-1275
We Custom Cut Rug Pad to Fit
Omaha's Rug Cleaning & Restoration provides custom cut rug padding for your rugs. Having a quality pad under your rugs helps extend their life, keeps the rug in place to prevent slipping and falling and helps protect the floors under the rug by filtering away tracked-on gritty soil. Having top of the line rug pad is the best thing you can do to extend the life expectancy of your area rug.
We refuse to sell any rug pad that is made out of toxic chemicals, clay, and adhesives as they damage the flooring underneath the pads.
The Importance of Rug Pad
When purchasing a rug pad, remember to rotate the rug pad every few months along with your area rug. This will help to prevent the cushion of the pad from diminishing in one area over time. The goal is to balance out the traffic wear to allow the rug pad to last as long as possible.
Our rug pads are different from others you may typically see on the market, here's how:
Eco Supreme
Standard Benefits
 

No Odors or Off Gassing

Resists mold, mildew & odor causing bacterial growth
Non-Toxic and Non-Allergenic
Radiant Heat – Perfect No Degrading
Synthetic backing will not stain, discolor or mar floor
Certified Green Label by CRI Institute
Sustainable product from recycled & recyclable materials
Washable and re-usable
Eco Supreme
Closed Cell backing provides a moisture deterrent against pet urine and spills, preventing liquids from touching your flooring. Diamond design with plush extra dense cushioning to help preserve the life of your rug for 15-20 years by preventing wear and tear.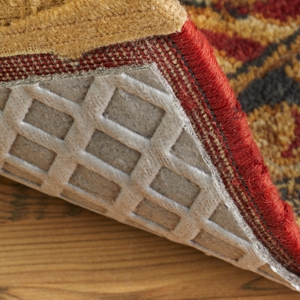 Eco By Design
Pet Urine Barrier – The only rug pad with Pet Urine Barrier,
our Moisture Barrier designed to keep pet urine from ruining
your hardwood and other floors
Green Label Plus Certified – The only felt rug pad on the
market that is "Go Green".
Sustainable – 100% Recycled – 100% Recyclable
No Odors – No Offgassing
Non-Toxic & Non-Allergenic
Will not stain, discolor or mar flooring
Radiant Heat – Excellent heat pass thru & no degrading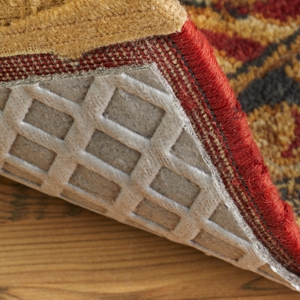 Need Help Selecting The Proper Pad For Your Rug?
Click the Button Below and Contact Us to Get Started