 Get Started Today!
Your Clean Rugs Are Waiting
Guaranteed Pet Odor Control
Serving Omaha, Lincoln, and Surrounding Areas
At Omaha's Rug Cleaning & Restoration, we are experienced in all rug cleaning problems and situations. Whether it's an elegant silk or a large room-sized wool or a simple synthetic area rug, we've got you covered.
Our vast experience and the fact that we use the best tools and products available guarantee that your area rug is safe and will be cleaned to the highest of standards.
If you have any questions please call and we will be more than happy to help.
(402) 212-1275
We Offer Pick-up and Delivery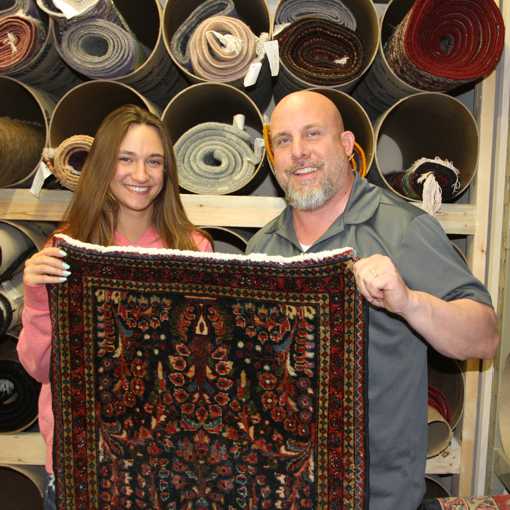 Even though we are located in the heart of the Midwest
We clean rugs from all over the world!
Persian
Turkish
Pakistani
What People Are Saying About Us
We just moved to the area and needed two rugs cleaned, so I did a little research and decided to give Cam a call. I knew immediately this was the place I wanted to do business with. Cam was professional and knowledgeable with the treatment we selected for my rugs. Drop off was easy and working with Megan through the rest of the process was a pleasure. My Persian machine made rug was back to looking brand new and my Turkish hand made rug has never looked so good! The colors really popped and the texture was extremely soft! Thanks so much for all the help. You've earned a customer for life. -Mike

Danielle Leon


May 28, 2022

We are a fellow rug cleaning and repair shop in Boise Idaho, Fiber Specialties. We recently had one of our favorite clients bring in a rug in serious need of some more difficult repair work. This rug is of high value with a great back story and is very dear to our client. We entrusted the services to Omaha Rug Cleaning as they have an outstanding reputation in the industry for quality repairs and cleaning. We shipped the rug to Omaha Rug and when we received it back we were thrilled, the repair was beautiful. The cost was extremely fair and the turn around time was as fast as you can get industry wide. Our client loved the work and loved that their rug was given decades of new life. Thank you Cam and Megan at Omaha Rug Cleaning and Restoration!

Derick Porter


May 24, 2022

Nicole and Cam cleaned two rugs for me: a large, living room rug that gets quite a bit if traffic and a smaller rug for another area. Took them in and were cleaned within a week. They worked hard to both clean the rug, and remove all pet hair. Their daughter (Megan) told me she got down on her hands and knees to remove the dog hair off of both of our rugs to ensure they were clean. We also got a new mat to go under the large rug for a very reasonable price. Brought them home and rolled them out today and they look brand new!! Thank you for the expertise Nicole and Cam. -Brian

Danie Denise Oberpriller


May 14, 2022

Professional and courteous staff. Great job on our 8x11 area rug and timely turnaround. Would certainly call them again

Diane Power


March 10, 2022

Had a flood in my apartment and had damage half way up my couch n love seat and after the water damage I guess because of the smell my cat started using it for his p p box it set for more than a month thought it was ruined I paid a pretty good amount on the furniture but these guys saved the day smell is gone no water marks on upholstery did a FANTASTIC JOB would recommend them HIGHLY 😊 Dave Omaha !

Apu Simpson


March 8, 2022

So impressed with this company. Spoke with Megan prior to the cleaning and she was very knowledgeable about our oriental rug, which is a heirloom. When we got it back the colors looked very bright and the repair on the fringe looked amazing.

MARY SALISBURY


October 16, 2021

One of the most knowledgeable companies dealing in fine rug washing & repair. Repaired antique heirloom back to perfection! Thanks Megan & Cam!

John Wojtusik


July 19, 2021

Very knowledgeable staff! They offer a great rug cleaning service, incredible repairs for handmade rugs of all origins, a selection of unique rugs for sale, and their customer service is second to none! Highly recommend.

Danny Morris


June 12, 2021

They did an amazing job on my area rug, it was returned back to us looking completely brand new! Highly recommend!

Emily Catron


May 28, 2021

I brought in two Turkish carpets that had been badly mauled by a golden retriever. They needed extensive repair and cleaning. I was not hopeful that the repairs could be done without wrecking my finances. I was so wrong! Meghan expertly rewove and re-fringed my rugs, and then the carpets were cleaned so well that they are soft and lush, with no running of the dye in my dark red Turkmen/Bokhara. I have more rugs to clean, and I will not take them anywhere else but to this business. Expert care at a good price. Many thanks!

Jean Wagner


May 22, 2021

I have a entry rug that gets a lot of traffic and have been potty training a new puppy. Needless to say, it was due for a thorough cleaning. Omaha's Rug Cleaning did an amazing job! The pet stain and odor is gone and it looks brand new. They are professional, reasonably priced and got my rug back to me in no time. I will definitely use them again in the future.

Jennifer Siegert


May 16, 2021