Omaha's Rug Cleaning & Restoration
Things You Should Know Before You Hire A Rug Cleaner.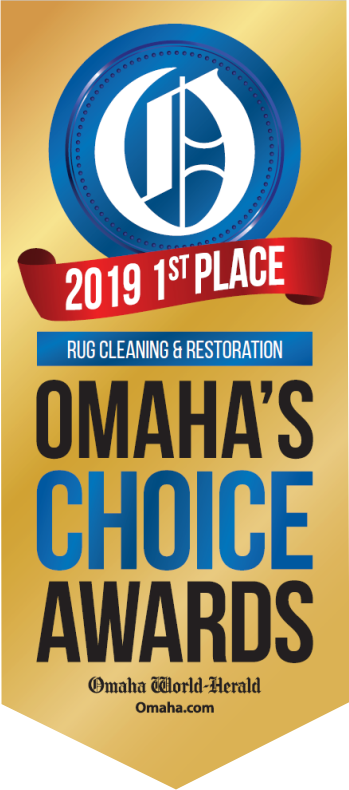 Cam Mayville returning a rug to the Nebraska Governor's Mansion in Lincoln, NE after a thorough cleaning and repair at Omaha's Rug Cleaning & Restoration.
Serving Omaha, Lincoln, and Surrounding Areas
At Omaha's Rug Cleaning & Restoration, we are experienced in all rug cleaning problems and situations. Whether it's an elegant silk or a large room-sized wool or a simple synthetic area rug, we've got you covered.
Guaranteed Pet Odor Control
Our vast experience and the fact that we use the best tools and products available guarantee that your area rug is safe and will be cleaned to the highest of standards.
If you have any questions please call and we will be more than happy to help.
(402) 212-1275
We Offer Pick-up and Delivery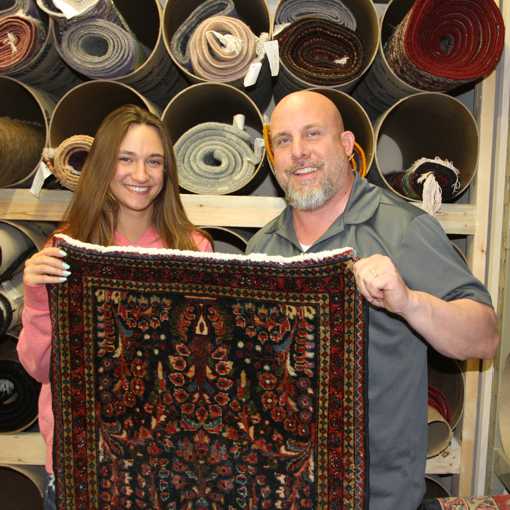 Even though we are located in the heart of the Midwest
We clean rugs from all over the world!
Persian
Turkish
Pakistani
What People Are Saying About Us
Well informed to the needs of the customer. Knowledgeable in her trade. Up front pricing no surprises. Concerned about a 100 year old rug. Very well done.

Danny Jackson


6/02/2020

Scope of work performed: Bleach stain removal on 2 yr old, high quality carpeting (hand dying bleach spots to match the carpet's color). Time: 1 hour Cost: $150. Skill and quality of work: 5 stars Experience working with this company: 5 stars Highly recommend. Look no further. ***** 2 days before Thanksgiving we had a cleaning product with bleach spill on our carpet in a very conspicuous spot. We never expected to have it fixed before we had family over 36 hours later, but I think that Omaha's Rug Cleaning and Restoration makes a habit of exceeding expectations. I called after hours, and heard back first thing the following morning. An appointment was scheduled for the next day. The owner showed up on time and finished on schedule. By the time I got home from work, the carpet was good as new. I couldn't find the stains. The color match was perfect. 5 star experience. In terms of standing by their work, again 5 stars... The day after Thanksgiving, the spots unfortunately became apparent again... within another day, they looked almost exactly how they were when the bleach originally caused the spots. Bleach apparently can be stubborn. I called back to discuss and sent a photo. Their response: Sounds like we may not have gotten the bleach completely neutralized, which is part of the job. When would you like us to come back out and address it? That's on us, and it'll be no charge. How can you ask for anything more? No need to call anyone else. Use this company. They're local, family owned, and do things right. I wish everyone operated this way.

Michael Castelaz


12/05/2019

This is the best place to get your rug cleaned!!! Best place best price best people without a doubt

John Bredvick


12/04/2019

This company really has a passion for woven art. Your rugs and carpets are in good hands when you choose this company. Don't take my word for it, just call and they will be more then happy to have a conversation with you. If you have a rug to be cleaned or a house of wall to wall broadloom Omaha Rug Cleaning and Restoration is your number one choice.

Russ Teskey


11/28/2019

Dear Megan and Cam, I wanted to show you what a beautiful job you did with my carpet. It hangs in our dining room and blends perfectly with my treasures from Japan. This carpet is one of my prized possessions I got while in Saudi Arabia many years ago, but have not been able to enjoy until now. I was afraid I was not going to find someone in the Omaha area who knew how to work with silk carpets. But your website made me comfortable enough to call, and Megan's knowledge and personal attention while visiting your shop convinced me my treasure was in good hands! We'll be visiting again soon with my wool rugs to get them cleaned. Thank you again for your great service!!

Marjorie Rief


11/06/2019

Had two very expensive oriental rugs cleaned in September 2019 . This company and service are outstanding. Nebraska Furniture Rug department staff recommended you and they are correct. You are the "Best in Omaha". Appreciated the prompt and very professional service. Wish I could attach pictures of my beautiful rugs. Turn around time was also excellent. Purchased new furniture and painted living room before the carpets were returned to us. Timing worked out beautifully. I will be referring others to you in the future. Thanks again for your elite service. Sincerely, Kathleen

Kathleen Wilwerding


10/18/2019

I just wanted to share what a pleasant experience I had at Omahas Rug Cleaning and Restoration. I am a rug cleaner from Mississippi and had the opportunity to come to Cam's shop and take a Cleaning class that he holds from time to time. I cannot being to explain what an amazing education I received through his very informative class. I had a rug that had bad color migration and brought it to the class to be corrected with Cam's expertises. He exceeded my expectations and had my rug looking better than it did when I purchased it. I am forever grateful for his kindness and all of the information he had to teach. If you are ever in Omaha, this is a must stop. Even if you don't have a rug to be cleaned, stop by anyway and meet his family that helps run the business. They are the sweetest people you'll ever meet!

Sorrel Garrison


10/14/2019

We visited this facility & the care and detail that they take on their customer rugs is very impressive. I will always trust Cam & his team with my rugs!

chris garrison


9/25/2019

My silk rugs have never looked better! They are SO clean - they just shine.

Nathan Koets


9/14/2019

I had a rug delivered to my house by two of the employees, the younger man was a sight to see. Worked well and did a nice placement for me 😉 I enjoyed watching him work and take directions from me.

ally alvarado


8/04/2019

They took such good care of my pricey Persian rug. Kept me informed of the process and cost. Everyone was so professional and nice! I would highly recommend them.

Jane Lowes


4/23/2019

I've been having the most difficult time getting the urine smell out of my area rug from my cat for weeks now, so I decided to take it here. Not only did they remove the smell, but they were THE most polite people I have ever encountered. Thanks again.

Alex Fitzsimmons


4/11/2019

I've been having the most difficult time getting the urine smell out of my area rug from my cat for weeks now, so I decided to take it here. Not only did they remove the smell, but they were THE most polite people I have ever encountered. Thanks again.

Alex Fitzsimmons


4/11/2019

I have taken rugs to Omaha's Rug Cleaning & Restoration three times now and as long as I have naughty dogs I shall continue to use their services. They are SO NICE to work with but most importantly, the rugs come back to me Naughty Dogs Symptoms Free!! The rugs are clean, smell fresh and I don't worry about a lingering odor being another Naughty Dog Magnet. Did I mention that they are super nice people??!!

Jeanine Trofholz


4/11/2019

Wow! Omaha rug cleaning and restoration did a wonderful job cleaning and repairing my grandmothers rug (she passed away and that rug means so much to me that i was so scared bringing it in!) And my expectations were blown out of the water. Cameron and his daughter Megan were so very informative and helped me with whatever need I had, I will for sure be recommending to all my friends. Thank you, thank you, thank you!

Paityn Bybee


4/11/2019
DID YOUR DOG DO A NUMBER ON YOUR RUG?
Surface cleaning and over-the-counter topical sprays can't get to the odor-causing bacteria deep within the fibers of your rugs, but our GUARANTEED pet odor control treatment ensures that your rugs will be sanitary, fresh, and clean.
As seen on the Morning Blend
View Cam Mayville on the Morning Blend Talkshow
Area Rug Tip: Move Your Rugs Around
This is one tip that may have a big effect in the condition and longevity of your rug. Moving your rugs around the house can sound like a very simple thing to do but it can really improve your rug's state.
Moving the rugs around can help avoid one particular area from being subjected to constant wear and tear. This wear and tear can be a source of cleaning and maintenance problems for your rug.
Trying to move a rug in your study room with a rug in your living room after a few months can balance things out and ensure not one particular rug receive a constant wear and tear from regular use.