Piled Rugs vs Flat Weave Rugs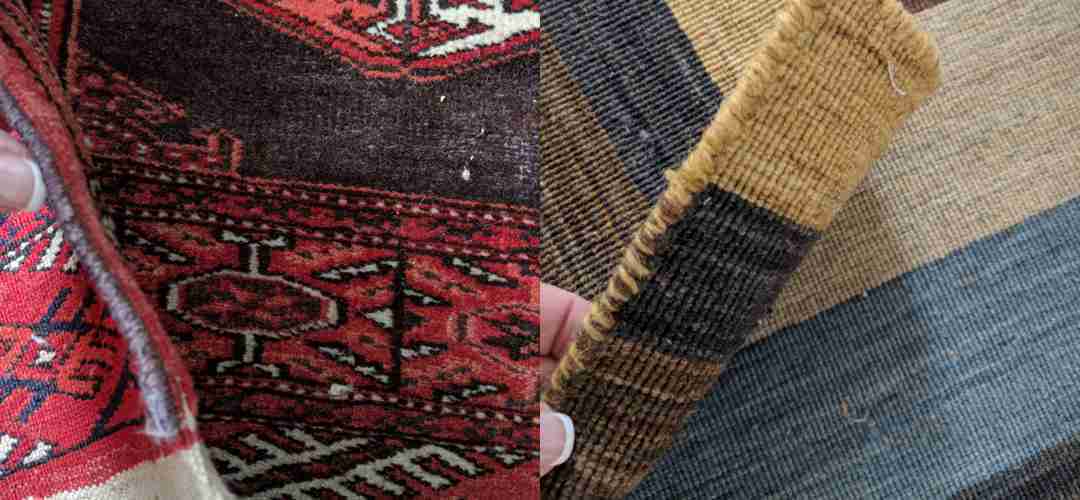 Piled Rugs vs Flat Weave Rugs – What's the difference and why does it matter?
by Lynn Tall, 
www.rugadvocate.com
When choosing a new rug for your home, there are several things to consider – fiber type, size, pattern, and color. You must also consider how the rug will take every day wear & tear. The way a rug is constructed actually has a LOT to do with this. When you think about all the different types and styles of rugs in the world, you've really only got two options from which to choose – a piled rug, or a flat weave rug. Below are some pros and cons for each type.
Three reasons to buy a piled rug:
They could last generations if cared for properly. It takes many years of wear before the pile starts to visibly wear down. Also, dirt hides at the base of the fibers, and this helps to keep the rugs looking cleaner longer.
Piled rugs feel luxurious under foot – unlike their flat weave counterparts. These rugs have weight and texture to them, and if you place a good rug cushion underneath, it's almost bouncy!
You will find any style you're looking for in a piled rug. Antique, traditional, vintage, contemporary, nouveau – and in virtually any color and fiber type. Even silk.
Three reasons to avoid buying a piled rug:
Piled rugs may exhibit fuzzing, pilling, and pile distortion, especially if the rug is tufted, or is knotted using staple (short strand) fibers. Sometimes this lessens over time, sometimes it lasts the lifetime of the rug. There's no way to really know or predict which way this will go. Regular vacuuming and professional cleaning may help.
Some piled rugs being sold today are using lower performing fibers such as Tencel or Viscose, but are at the high end of the price spectrum. Just because a rug is pricy, does not mean it will last as long as a wool rug. It's important to know about and understand fiber strength if rug longevity is of a concern to you.
If someone in your home uses a cane or walker, piled rugs can become a literal hurdle for them. Pile heights vary, so look for a lower pile and stick to a rubber rug pad underneath.
Piled rug examples: Hand Knotted Persian or Contemporary Style Rugs, Machine Made Persian or Contemporary Style Rugs, Hand Tufted Traditional or Contemporary Style Rugs, Hand Hooked or Machine Hooked Rugs, and all other rugs with a piled side.
Three reasons to buy a flat weave rug:
• Flat weave rugs are versatile in any décor, coming in a variety of modern, traditional, and tribal fibers, styles, and colors.
• Flat weave rugs can be less expensive than their piled counterparts. An 8 x 10 handwoven flat weave Dhurrie from India may only cost $500.00, whereas a hand knotted Indian Oriental type rug may cost upwards of $2500.00.
• Sometimes things like door clearance, or having someone at home who you worry may trip or fall comes into play. Flat weave rugs are nice to have in these cases because, if used with the proper rubber rug pad, they will stay flat to the floor, and should not shift under foot.
Three reasons to avoid buying a flat weave rug:
They do not withstand hard use because their weft foundation yarns are what make up their patterns. When we walk on them and create a traffic pattern, we wear down the actual foundation of the rug.
Flat weave rugs are harder to keep clean looking because there is nowhere for dirt to hide. Tracked on soils and dust get ground into the actual weave of the rug where regular vacuuming cannot reach, leaving a visible soiled path.
You cannot use a thicker rug pad underneath flat weave rugs because this causes structural damage. High heels and furniture legs may bore a hole right through, pet toenails get caught and create pulls, also the rug will likely buckle and creep. These type of rugs are meant to be kept flat to the floor. Only a thin, rubber pad will do.
Flat Weave Rug Examples: Kilim, Navajo, Mexican Blankets, Braided, Dhurrie, Rag Rugs, Needlepoint, Chainstitch, Soumak, Reversible Rugs, and all other pile-less rugs