Pre-Inspecting Your Rugs – What We're Looking For.
Pre-inspecting your rugs before cleaning allows us to determine a "best method" approach for each rug we care for.
No two rugs are exactly the same, and no two rugs will be cleaned in exactly the same way.
Sometimes, the things we discover during pre-inspection will dramatically alter our methods. We want to provide your rugs with the best possible care. That's why we take the time to thoroughly pre-inspect each and every rug that comes through the door.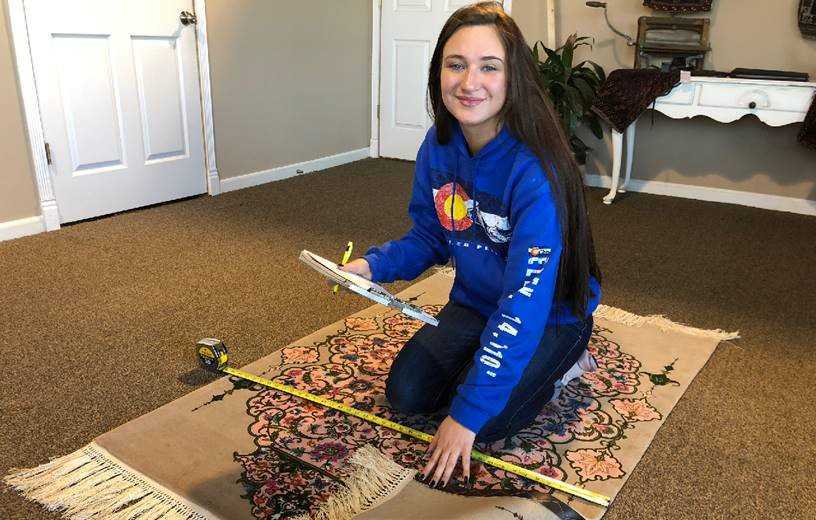 Megan Mayville pre-inspecting a rug
We have a dedicated, well-lit area in our shop where we look for:
PRE-EXISTING PHYSICAL DAMAGE: CUTS, HOLES, RIPS TEARS
When we find physical damage during inspection, we worry that a rug may need extra gentle care, or even some type of repair. Will the rug survive a wash without further damage? Is the rug rotted? What caused the damage? We may ask a few questions that will help us determine the best course of action to follow, and we may suggest some type of repair to help extend the life of your rug.
HIDDEN DANGERS: ODD CONSTRUCTION, TEA-WASH FINISH, DYE LOT VARIATIONS, WHITE KNOTS
Sometimes the rugs we see in the shop hide red-flag situations for a cleaner. If a rug is misshapen but laying flat, it may buckle during washing, if a rug has had a tea-wash applied to make it look older, it may wash out or look splotchy after washing. These things are fixable, but because there is a cost associated with the fix, we want to let you know about it before hand. Dirt hides things that may appear unsightly to some, but don't necessarily need fixing, like white knots caused by wear or abrash stripes caused by dye-lot variations. When the dirt is washed away, these things appear brighter, so we want to point them out ahead of cleaning.
DYE DAMAGE: WATER DAMAGE, PET STAINS, OVER-THE-COUNTER CLEANING PRODUCTS
All dye migration or alteration of any kind is a big deal because we wash most of the rugs that come in for cleaning. Wet cleaning may exacerbate dye damage, so we'll want to know the reason for it. Most often, it's due to pet accidents, but flood damage and high pH at-home spot cleaning are also likely culprits. We are able to correct most pre-existing dye damage, and we're able to work on rugs that look like the dyes might bleed. It's very useful to know before-hand that a particular dye issue may exist.
WEAR: TRAFFIC LANES, THIN PILE, WHITE KNOTS
Having a good rug pad under your rugs helps extend their life by absorbing much of the wear your rug will receive in your home. If we see signs of traffic pattern wear, white knots, or worn-down pile, don't be surprised if we ask you if your rug has a rug pad underneath it. If your rug pad is older that 5 years, it should probably be replaced.
STAINS: PET STAINS, SPILLS, STAINS WITH COLOR
Most stains and spills will come out in the wash, but pet stains, or red and other colored stains need extra work. If we see something like this, we'll let you know if we think it will come out, of if extra steps will be necessary to remove or correct such stains. There is occasionally an extra cost associated with this type of restoration, so we want to let you know ahead of time.
There's a lot that goes into a good pre-inspection, but it's a  necessary step for success on the wash floor!
Visit Us
Omaha's Rug Cleaning & Restoration
10345 Chandler Cir
LaVista, NE 68128-3256
Hours
Mon - Fri 8:30 am - 5 pm
Closed Saturday and Sunday