Silk Rugs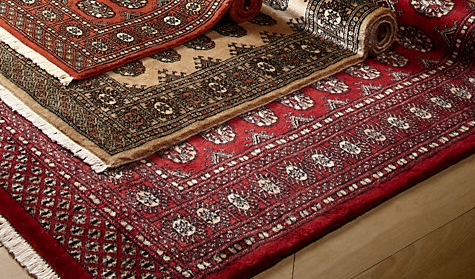 By Lynn Tall,
www.rugadvocate.com
It's time for a BUYER BEWARE article.
Our customers often bring us silk rugs for cleaning. The sad truth is that many of the "SILK" rugs we see are not actually silk. At best, they may be a blend of lesser quality, lower performing silk, at worst, they are mercerized cotton, viscose, rayon, or wool that has had very harsh chemical treatment to make the fibers look as shiny as silk.
Silk fibers in rugs can be called a number of things: art-silk, viscose, garment silk, bamboo silk, coconut silk, banana silk, raw silk, sari silk, pure silk, wild silk, rayon… There may even be more! Of that list, only raw silk, sari silk, garment silk, wild silk, and pure silk are true silk fibers. Of the true silk fibers, only pure silk is worth the expected price point. It is harvested as a long filament fiber that is suitable for weaving rugs with. The others are broken, staple fibers that need to be blended with another fiber to give it any strength.
There are a few tips you can use in the marketplace that may help you avoid a fake silk fiber.
PRICE
If the silk rug you are interested in does not have a price of hundreds of dollars per square foot, chances are it isn't 100% real silk. Some of the best Turkish silk rugs start at approximately $1000 per square foot.
TEXTURE/WEIGHT
True silk rugs are very, very thin and light. If the one you're interested in has any sort of pile height and heft to it, it's most likely a faux or blended silk.
WOVEN or TUFTED?
Rugs with backings are not woven or knotted. They are tufted, which means they were made at a much lower price point. The price point is achieved through mass production and inexpensive materials. Not real silk!
TEMPERATURE
Pure silk has a cooler temperature than wool, cotton, or the other faux silk fibers. If you run the back of your hand along the pile of a silk rug and it feels cool to the touch, you might just have a real silk rug on your hands.
KNOT COUNT
Ordinarily, this doesn't factor in to the value of a piece, but in silk rugs, it does. Pure silk rugs should have knot counts between 800-1800 knots per square inch. Faux silk rugs may range from 180-600 knots per square inch.
Most rug dealers will let you try a rug at home for a day or two on approval, so if you see a silk rug you'd like to buy, please bring it in for us to inspect before purchasing it! We'll gladly help you decide if the rug is what the dealer says it is.
Visit Us
Omaha's Rug Cleaning & Restoration
10345 Chandler Cir
LaVista, NE 68128-3256
Hours
Mon - Fri 8:30 am - 5 pm
Closed Saturday and Sunday